Hey there!
Today is Sunday! The exclamation is because it's perfect! It rained here last night and there's a mellow breeze blowing in my garden with birds chirping. Sometimes I have to pinch myself to remember that this is a new side to Delhi, which is normally very very polluted and noisy. Anyway, before I digress further, let's get back on point – Holographic polishes! When did you first get to know of one? When did you get your first holo polish?
As for me, I'm new to the world of nail polish, so I'd have to say that I first came to know of the existence of holographic polish sometime in January last year ( I know! How late was I to the holo bandwagon!). I got my first holo polish through a giveaway hosted by Foxy Paws Polish – a Danish indie brand.
Since then, I've remedied the situation and got myself quite a few holo polishes. I know that there are a lot of bloggers out there who think that holographic polishes are overrated. That's only cause they've had them for so long,they cease to appreciate it! I honestly don't think I'll ever get tired of them! The plus is, I live in India where we get plenty of sunlight all year round, so If you catch me driving around with my eyes glued to my nails, don't be surprised.
Today, I've used a beautiful coppery holographic polish from KBShimmer. I love KBShimmer! Beautiful range, perfect crellies and not a fault to be found in pretty much any polish they've released till date.
Here's what you'd need to create this look:
Diamond Strength Basecoat – Sally Hansen
Clearly On Top Quick Dry Topcoat – KBShimmer
Run! It's the Coppers! – KBShimmer
Black stamping polish -Konad
I used the DRK Nails Designer XL 1 for stamping the image. Here's a look at this beautiful plate!
The possibilities with this plate are limitless! There's so many elements that we can play with here!
This is what I narrowed down on finally, It's an Islamic Architecture inspired lattice pattern. These can be seen in many of the old heritage buildings constructed by the Mughals in India (e.g. : The Taj Mahal):
And, here's the finished look in the shade :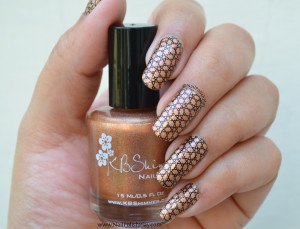 Let the holo craziness begin: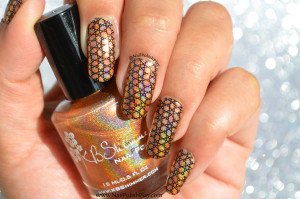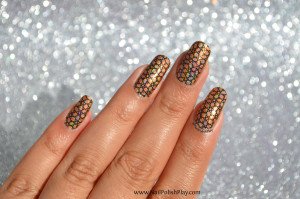 A closer look at the holographic finish is a blurry shot:
I leave you with this last one :