Hello!
I was on a break for a while but I'm back with lots of new things. I recently received my first review pack from Born Pretty Store and I'm really impressed with the quality! I received 2 stamping plates and 2 packs of embellishments. I decided to split my review into 4 parts as it would have become an impossibly long post otherwise.
In this post I will be reviewing one of the rectangular plates from the in-house stamping line from Born Pretty Store. This one (BP-L016) is full of beautiful damask and baroque inspired images. It also has a few images from popular culture – Marylin Monroe and Audrey Hepburn.
The plates come with the standard protective film. A new feature is the sleeves similar to the ones from MoYou London.The plates did not previously come with any packaging so this is a pleasant change as now storage is not a problem.I somehow don't really like vinyl organizers much, even though they are very good at their job. These have a really pretty aztec / tribal patten. If you want to learn how to make your own sleeve, you can check my tutorial here.
Here's the sleeve and the plate:
As you can see, these plates come with a hard backing so they're quite sturdy.
Basic info:
Plate Size ( including the backing) : 13cm x 7cm
Full nail images  : 1.4cm x 2cm
Smaller images : mostly 1cm x 1cm
Full Price : $5.99 , but you can almost always find them for lesser during a promotion
You can buy this plate here. The item code for this plate is : 19371.
The etching is very good on this plate. I didn't face any trouble in picking up the images. I used my FabUrNails XL gold stamper set to pick up the images. Instead of just swatching the images, I thought it would be more fun if I created a full manicure. I did 3 for this review, so get ready to be spammed.
Manicure No. 1 – Royal : Purple & Silver 
Here's what I used:
Sally Hansen –Diamond Strength Basecoat
OPI Color Paints – Purple Perspective & Silver Canvas ( from the complete set purchased from ebay)
newU Mirror Metallic – 107  Bronzy Brown for stamping
Glisten & Glow – HK Girl Top Coat (my absolute favourite!)
To get this look:
1. Start off with a basecoat.
2. Paint one coat of silver canvas. It's quite opaque , so one coat is enough.
3. Paint two coats of purple perspective. I originally wanted only one, but this polish is really streaky, so I had to do two to even out the streaks.
4. Stamp using bronzy brown. This colour is not quite silver and definitely nowhere near bronze, but it's an interesting in-between colour.
5. Topcoat and you're done!
The finished result :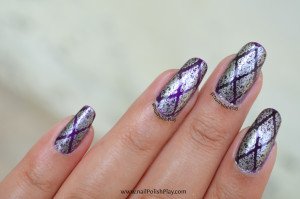 And I'll end this one with a macro :
I know that the color paints collection is really suited to creating abstract nail art and I'll have my design up pretty soon,but I really loved the way the purple pops over the silver base. It looks very regal and has a really interesting layered effect once the stamping is done on top!
Manicure No. 2 – Woodsy : Chocolate Brown & Gold 
Here's what I used: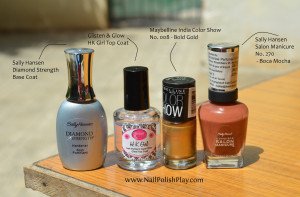 Sally Hansen –Diamond Strength Basecoat
Sally Hansen Salon Manicure  – No. 270 Boca Mocha
Maybelline Color Show – No. 008 Bold Gold for stamping
Glisten & Glow – HK Girl Top Coat
The steps to create this look are pretty much the same as described earlier.This is the end result :
and another macro:
This polish has been sitting in my untrieds list for a really long time and I'm glad I finally used it! The formula was great, completely opaque on two coats.
Now for my favourite – Classic Pink and Black Baroque Nails!
Manicure No. 3 – Pink Blush : Pink & Black 
Pink rates pretty high in my list of favourite colours and I probably have too much pink in my collection. You can never have too many pinks in my opinion.
What you'll need :
Sally Hansen –Diamond Strength Basecoat
Bourjois So Lacque –  No.8 Peach & Love 
Konad – Black stamping polish
KBShimmer –  Clearly On Top Quick Dry Topcoat
Once again, this is a very simple manicure but I really loved the wallpaper-y look to it!
The finished look:
and a macro to finish just like the others:
On the whole this plate has beautiful designs with a nice mix – a few love themed images, vintage Audrey Hepburn and Marilyn Monroe and the gorgeous swirly arabesque/damask/baroque designs. It's defnitely a nice addition to any collection.
So what do you think? Which is your favourite? Let me know in the comments section below.
Born Pretty Store offers free international shipping and you can use my code NPPQ10 on your next purchase to get a 10% discount on all regular full price items.