Hi guys,
I have a quick post today! I indulged in some random impulse shopping over the weekend and ended up buying two polishes from Inglot. I've been in love with their makeup for a while and needless to say, their polish bar is drool worthy 😀
I picked out a pinkish tinged taupe (no. 367) and another seemingly ordinary pink ( no. 302) which is actually a duochrome with a strong green flash.Here are some bottle shots :
 Just look at the green! Magical right!
It's really strong even in the shade!
I must say, it's really awkward trying to click pictures of the brush with the bottle in one hand the camera in the other! I was trying to catch the last few rays of sunlight and had to hold the bottle at all angles 😀
The other taupe colour (no. 367)has a pink flash which is evident on the nail at a certain angle and was difficult to photograph. Here it is in the sun :
I have swatches of these on a single nail as I wanted to do a comparison. I really love taupe and pink and have a lot of polishes . the distinction being that these are all "similar" and not the same. As for the pink/green duochrome, I don't have any in my stash that compares, so I'm really pleased with that one.
Here's a macro swatch of no. 367 :
See how beautiful that pink flash is! It's perfect for the office or a "grown up" brunch 🙂
The formula was really easy to work with! Opaque and creamy in two coats.Dried pretty fast too. No streaks or patches. The photo above is without topcoat, so as you can see, it's really shiny!
Here's a macro swatch of no. 302 on it's own:
I seriously don't think this polish is meant to be worn on it's own. For one, it needs 4 coats to become as opaque as shown in this picture and there's still some nail line that's visible. I'm not a fan of those sheer polishes where you can see the nail line, I like using them as a base for some stamping to cover up the VNL ( Visible Nail Line).
One thing I need to mention is that even with 4 coats, it dried very fast and to a very shiny finish. The duochrome is not very apparent when you layer this polish like this. So I tried layering it over the taupe. Here are the results:
It's lovely! It's transformed my pinky taupe into a magical pixieland taupe! I really love how these polishes look together. Also, no topcoat here either. The polish is naturally this shiny!
Here's a look at the two versions side by side: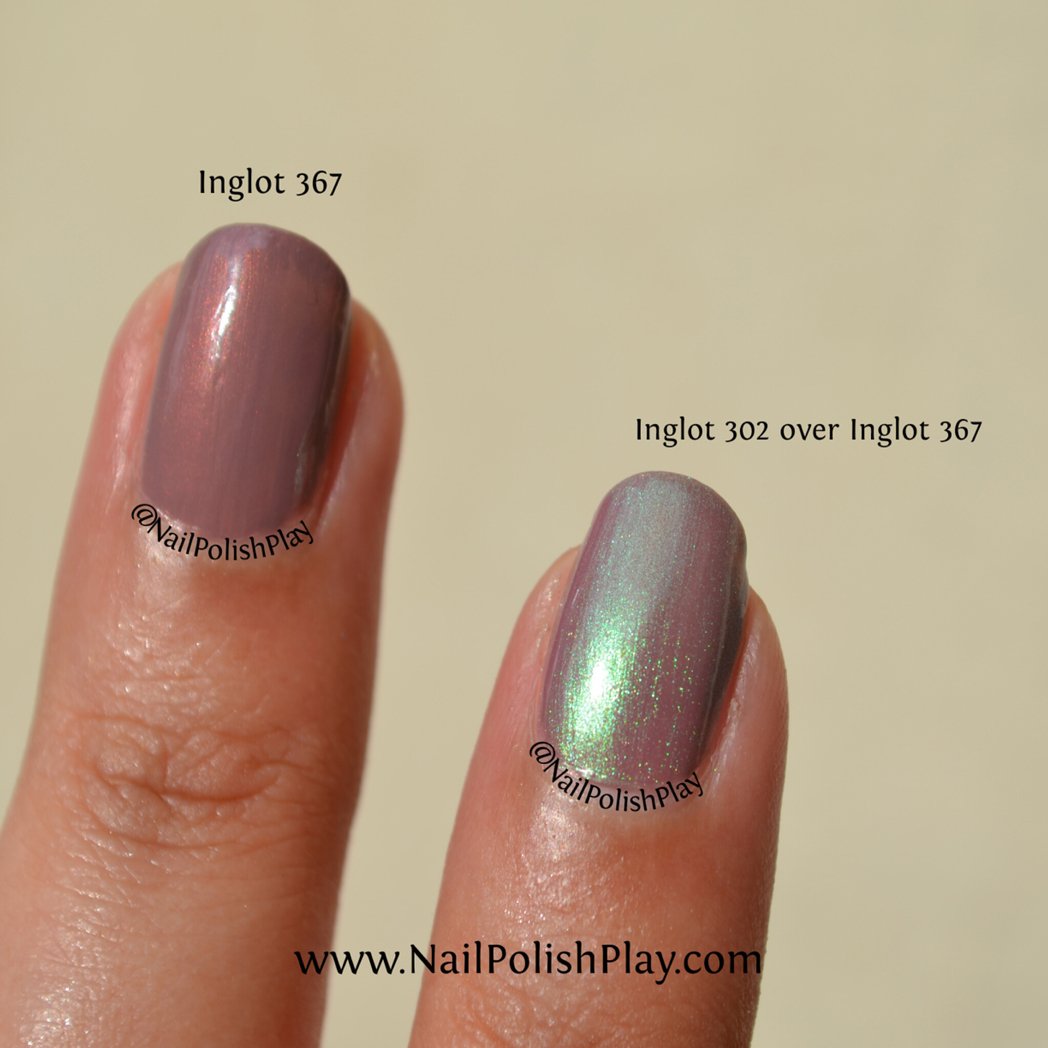 As I mentioned earlier, I was afraid that I may have gone and bought myself a dupe, so I decided to compare this to all the possible taupe/taupe-ish colours I already have. Here's a comparison in the sun :
While I was in the store, I was really convinced that this was a dupe for "Commander in Chic" from the Salon Manicure range by Sally Hansen. Later on I thought it also looked similar to "Plum's the word" from the same Sally Hansen range. However, as you can see, there are no dupes here! Yay for me 🙂
Here's what they look like in the shade:
These polishes retail for INR 750 at Inglot stores across the country. The products were not provided for review, I paid for these myself. Inglot is a 5 free brand. This means their polish is free of 5 of the most harmful chemicals that may typically be found in polish –  Camphor ,  Dibutyl Phthalate (DBP), Formaldehyde, Formaldehyde Resin and Toluene.
That's it from me! Lemme know what you think below…