Hey guys,
I have a polish from an upcoming Indian brand – Stay Quirky, today. This brand currently only sells through http://purplle.com/shop and the delivery is super fast! I got my polish 2 days after placing my order! They were running a huge 50% off introductory sale so I was fortunate to get my hands on a few colours for a bargain 😀 . There is still a limited 25% discount going on, so you can still get these at a discounted price.
Stay Quirky have a wide range of finishes and colour choices – textured,duochromes,satins,gel finish etc. . Each polish has a name and a number. Though for some reason, none of the bottles have the name mentioned anywhere. In some cases, even the number is only printed on the underside of the bottle along with the expiration date.This is a huge bummer for me as I am someone who remembers the name of a polish more than the number. I've said this of Innisfree polishes too, they only have a number instead of a name ( the names are sometimes printed in Korean, but seeing as I don't know Korean, it's pointless).A number seems so clinical and impersonal, whereas a name evokes an image in your mind. Ok, rant over! let's get to the polish!
This one is No.825 Legendary Bloom. It's from the "Jersey Effect" line of polishes, which are basically textured polishes. These textured polishes have sprinkles in complimentary colours and look really soft and feminine (soft despite being textured :D) on the nails. This one is a lovely pastel mint green with indigo and yellow sprinkles. Completely opaque in 2 simple coats, I didn't need base or topcoat. It also dried fairly fast. No need to run around trying hard not to smudge your nails while doing a task.
Here are some swatches:
They look almost like a yoghurt smoothie/ice-cream on the nails!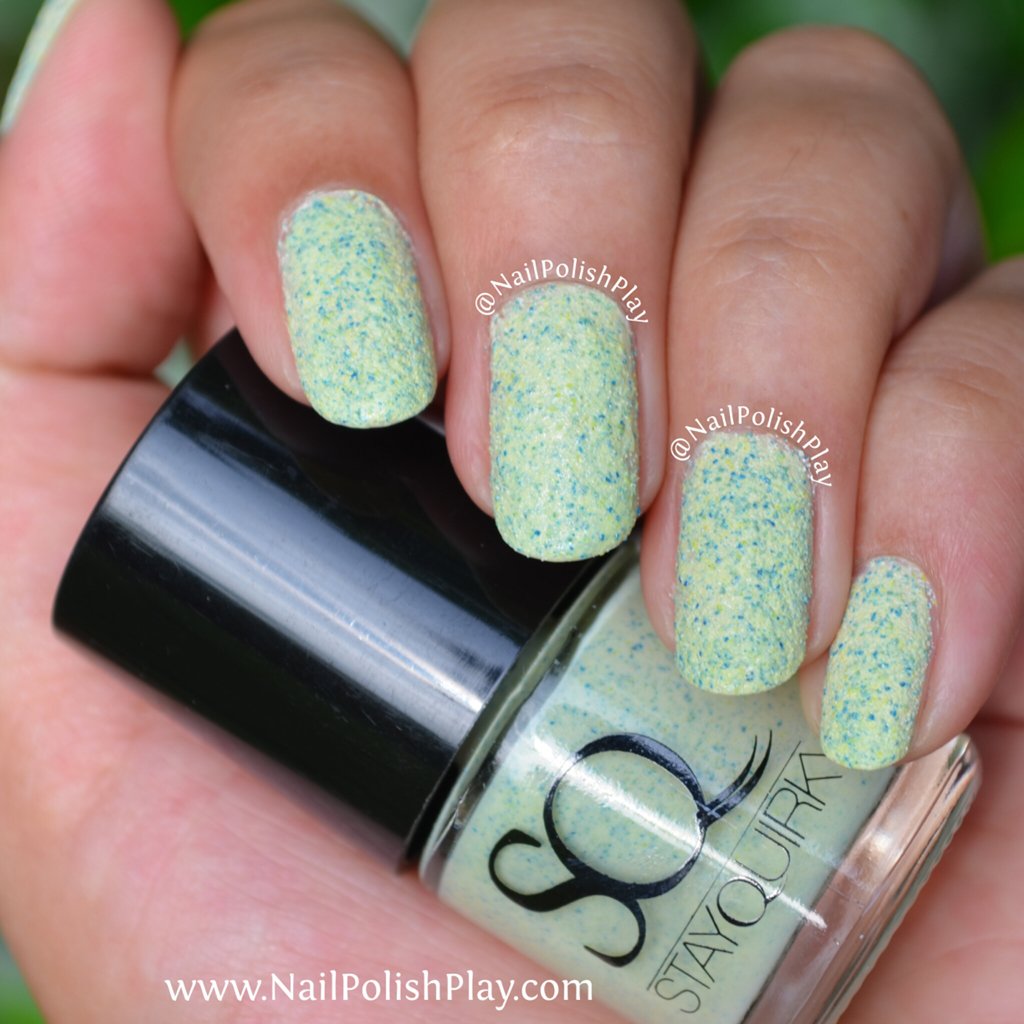 It's been raining here, so the light is a little dimmer than what I'm used to. Here's a closeup:
This colour is so pretty on it's own! I also liked the textured effect. It's not too textured for me, it has the right amount of grittiness.
I also did not use any basecoat or topcoat as it's simply not required. Textured polishes hold well on nails without a basecoat and considering this is a light pastel, I'm not expecting any staining on my nails (which is the only reason you'd want a basecoat with a textured polish).
I wanted to try a stamped design on these nails. I've done stamping on a textured base before and was really pleased with the result.So I broke out my Uber Chic Beauty plates. Here's what I used:
Base Colour – No.825 Legendary Bloom from Stay Quirky
Stamping Plate – Plate 3 from Set 3. You can find it here.
Stamping Polish – Konad Blue
Stamper – Gold XL Stamper & Scraper from FabUrNails.
Liquid Latex from Amazon for easy cleanup
Flatbrush from Claire's Nailart Brush Kit for easy cleanup
All I did for this design was to apply the latex around my cuticles and then stamp the design. I didn't need to use any topcoat at all. One of the simplest manicures I've ever done 🙂
A closer look: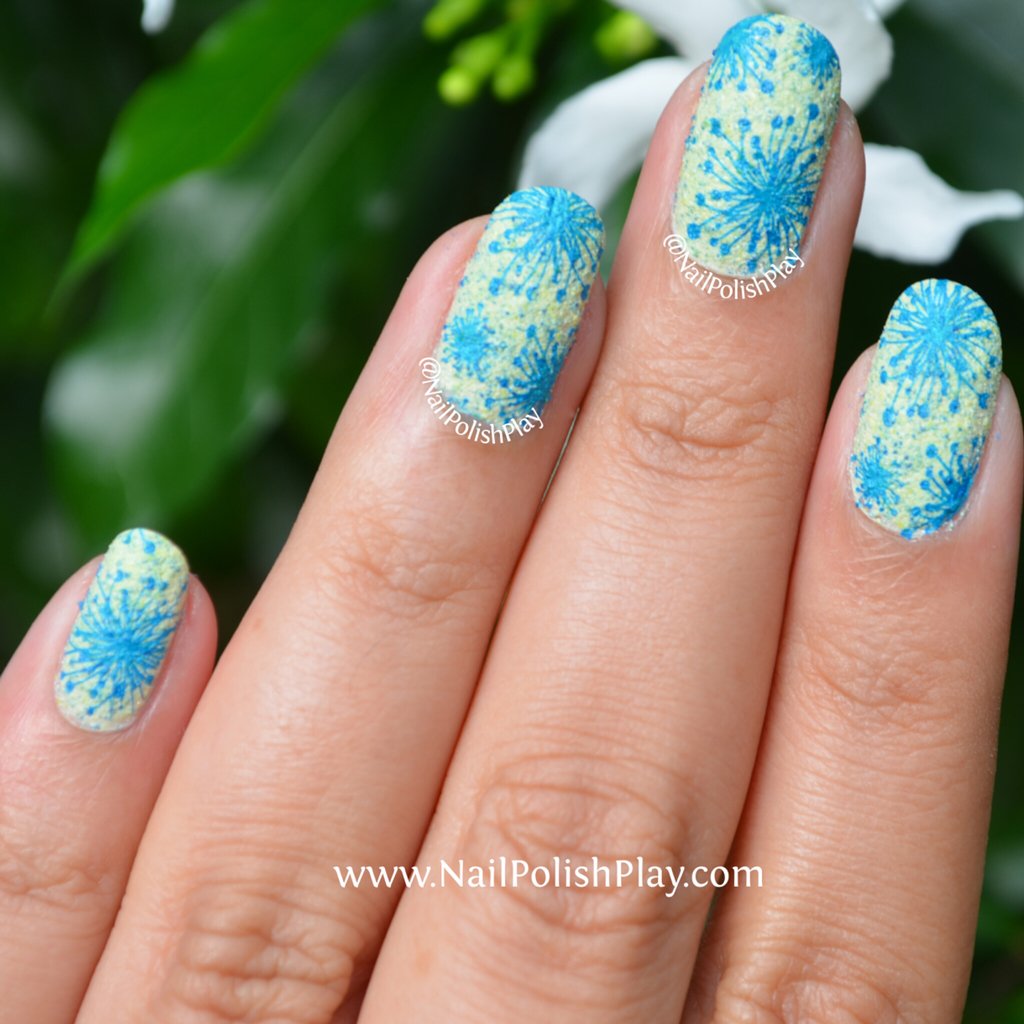 From a different angle:
Macro time!
So what do you think? I've still got this design on my nails as I type and the stamped design is intact. No chipping at all!
Follow my blog with Bloglovin