Dry brush is one of the easiest techniques there is. I'm so happy this is a legitimate technique, cause it seems so easy.There is no right or wrong way when it comes to a dry brush as everything falls into the realm of the "abstract".
Another moniker for the dry brush is "Distressed Nails" as made popular by Chalkboard Nails. This is because the results of a dry brush can look like a punk/grunge inspired design based on the colours used (for example – Neon Yellow, Neon Pink and Black on a White Base)
The steps to a dry brush are fairly simple:
1. Choose your colour palette for the look. You can use as many polishes as you like.
Suggestions : For a Peaches and Cream look, pair a Peachy Pink with White
Denim inspired – Blue and White or Black
Meadow -Green with White and Yellow
The combinations totally depend on what polishes you own.
2. I had oceans on my mind, so I went with two complimentary shades of blue polish – Revlon Colorstay Gel Envy Wild Card and Full House. These polishes are new to the Indian market. They were launched only a few weeks back and I'll review them soon.
Here is the dry brush mani I created for this prompt (pic taken outside in natural sunlight):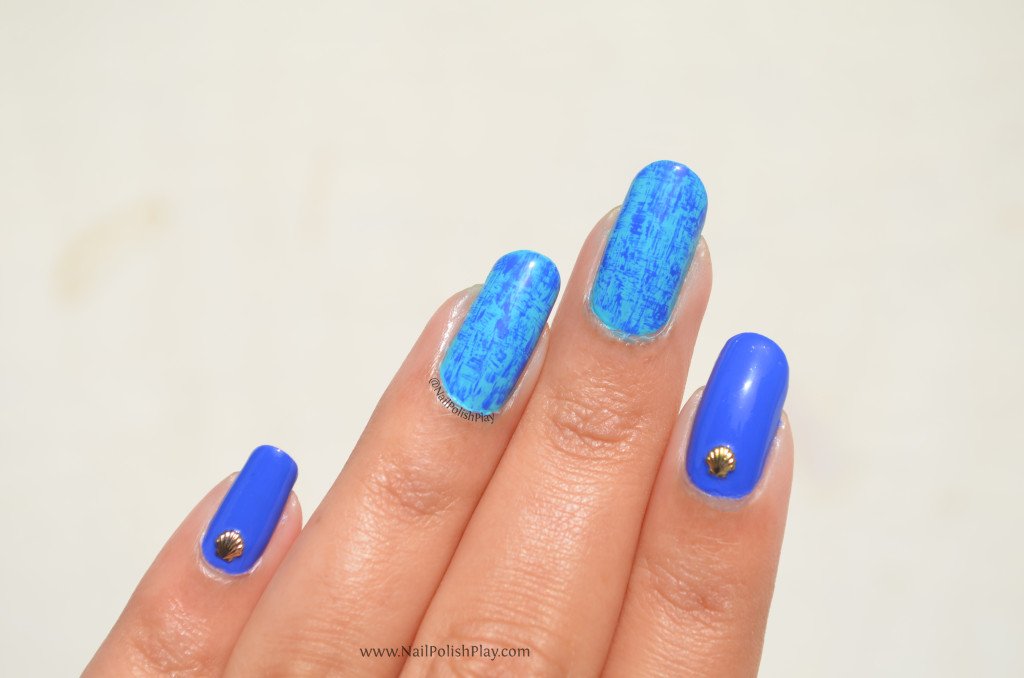 What I used:
Basecoat – Diamond Strength from Sally Hansen
2 Blue Polishes – Revlon Colorstay Gel Envy "Full House" and "Wild Card"
Topcoat –"Clearly on top" by KB Shimmer
Some optional shell studs from Aliexpress
3. Start with two coats(or three if they're needed) of your base colour (in my case, the lighter of the two blues- Full House)on your thumb, middle and ring finger.These Colorstay polishes do not require a basecoat. However, if you're doubtful about staining, I'd recommend a base coat. I used Sally Hansen's Diamond Strength basecoat.
4. Take the second polish (Wild Card) and wipe off as much as possible on the neck of the bottle. There must be little to no product left on the brush. Now drag the brush along the length of the nail from the base to the tip. You can break the line into 3 or 4 segments for an interesting look.Next, dip the tip of the brush back into the polish, brush off the excess as before, and drag the brush width-wise from one end to the other, perpendicular to the first brushstroke and intersecting it.Typically, you can just drag the brush any which way you want. Doesn't matter. I'm just listing the steps I used in case anyone is interested in recreating this look.
Used with a pink and brown palette, the steps above can be used to create tweed nails too.
Apply topcoat to seal your dry brush. You can use those topcoats that smear everything for this mani, it'll help the colours blend and give a better, more "fuzzy" appearance.
5. Paint your index and pinky nails with the blue used to dry brush (Wild Card). Apply topcoat and wait for it to dry. Then put a tiny bead of topcoat where you want to place your stud and wait about 5-10 seconds, then place the stud over the bead using tweezers and press down. The bead is to anchor the stud to your nail bed and increase the longevity of your manicure. I'm still wearing this mani as I type and it's lasted me 4 days without the shell falling off. Pretty good if I say so myself.
Another look indoors with fluorescent lighting:
That's it! you're finished. The steps took longer to describe than the actual mani itself!