Hi everyone!
I'm back with another review today, this time of one the round plates from Born Pretty Store. Roughly, 75 plates have been released in this series till now, and all of them are pretty good.
The plate I have today is  Fish Leaves Nail Art Stamping Template Image Plate BORN PRETTY BP66, item ID: 20039. A new feature with these plates is, they also come with a sleeve. Unfortunately I've forgotten to click a halfway decent picture of it, though it's got the exact pattern as the rectangular plates. You can see the sleeve here.
This is what the plate looks like:
As you can see, this is a buffet style plate, so the design is good enough for pretty much any nail length. The plates come with the standard blue film, which I've removed. This has an interesting mix of designs from the art-deco ish pattern, to the 'Do Not Cross' police line. My favourite of course are the tribal fish, they're too cute!
Here's what I used to create this manicure:
Sally Hansen –Diamond Strength Basecoat
Glisten & Glow – HK Girl Top Coat
Konad – Black stamping polish
Shop eighty4 Pastel Neons in – Cotton Candy, Candy Mint, Powder Puff & Pale Leaf . I picked up the complete set of these pastel neons, you can get them here.
FabUrNails XL gold stamper set
A.S.P Manicure Saver Cotton Claw for cleaning the stamping plate
I wanted a neon colour for this nail art but not a 'proper' neon, so I used pastel neons. Here are the steps :
1 . Apply basecoat on all your nails.
2 . Paint Powder Puff (pastel neon blue) on your index and middle finger. Paint Pale Leaf (pastel neon yelllow) on your pinky and thumb. Paint Candy Mint (pastel neon green) on  your index finger.
3. Use Pale Leaf to stamp the leaves & vines on the blue nails. Next use Cotton Candy ( pastel neon pink) to stamp the same leaf design over the blue nails. Switch up the pattern so that it doesn't completely overlap. Now use black stamping polish to stamp the tribal fish pattern on the blue nails.
4. Stamp the vine pattern on the remaining fingers in black.
5. Topcoat and it's done!
The finished look ( my right hand looked better than the left, does that happen to you too?):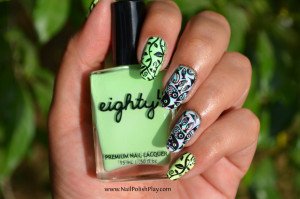 Trying to hold all the colours!
A closeup of the fish:
So final thought? This etching is excellent on this plate.I didn't have any trouble picking up the images.Overall, I think it has an interesting mix of images. This plate is available for purchase at Born Pretty Store and you can use my coupon code NPPQ10 to get a 10% discount! See you next post!