Hello!
Today I've got one of the new MoYou London Illusion Plates! The stamping world has gone crazy with most recent releases featuring illusion prints of one form or the other. MoYou London jumped on the bandwagon a little late ( Hello B Loves Plates!) but they've come out with spanking irresistable designs!
Anyway, as usual, here's the plate: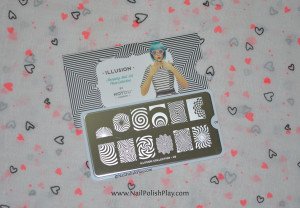 This is plate number 5 from the Illusion Collection.
I love everything about this plate, right from the swirly eye-boggling designs to the Pin Up girl – Elle.
Here's the stuff I used for my design:
Basecoat –  Orly Bonder
Glisten & Glow – HK Girl Top Coat
So Lacque Glossy Nail Enamel from Bourjois – 06 Adora-Bleu 
White Stamping Polish – Konad White
Liquid Latex for easy cleanup with stamping
FabUrNails XL gold stamper set
A.S.P Manicure Saver Cotton Claw for cleaning the stamping plate
Procedure:
1. Start off with basecoat and paint two thin coats of the blue polish ( Adora-Bleu).
2. Apply two thin coats of liquid latex around your cuticles. This is to protect your skin from the polish while stamping and makes it much easier to clean up. I use two coats because the latex film becomes thick enough to pull off in one clean sweep. One thin coat tends to tear halfway around the nail.This dries super fast (<1 min) so don't dawdle while painting it on your skin.
3. Using the white stamping polish, pick up the pattern and stamp on the nail. Once you've stamped all the nails, use tweezers to pull of the latex barrier.
4. Some minor cleanup can be done with a flat brush.
5. Topcoat to seal your design. That's it!
The finished look:
In the sun. The colour looks a little bleached cause it was so bright when I clicked these!
Here's a macro :
That's it for this post! What did you think of this design? I'm tempted to try something with holographic polish next.